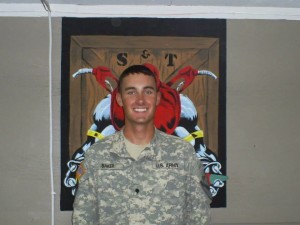 Cody's Cause, Inc. founded September 2013, incorporated in June 2014
What is it? Cody's Cause is an organization that provides service dogs to those suffering PTSD.
Who is Cody? SPC Cody Lee Baker, age 25, born in Louisville, KY, raised in Breckinridge County, KY.  He is a twin brother to Jennifer Hopper.  He has an older brother, Brandon and a younger brother, Tyler.  Cody wanted to be a soldier from the time he was just a tot.  Cody loved farming, 4 wheelin', muddin', big trucks…he loved kids, he loved his motorcycle and most of all, he loved people.
Cody attended school in Irvington and Hardinsburg, KY and went on to join the Army in 2005. He was a role model soldier.  He excelled through basic and AIT training, always being in the top 2.  He made tons of new friends, he was seeing the world.  He was happy.  Then, he went to war.  He was the youngest in his unit.  His MOS (military occupational specialty) was an 88Mike (88M, or motor transport operator).  Cody was eligible to drive every piece of equipment that they had.  And he was one of the best.  He was responsible many times, for transporting his leadership safely from one location to another.  He often volunteered to be the lead driver in convoys because all of his "battles" had wives and children back home and he didn't want anything to happen to them.
Cody saved lives on more than one occasion during his tour in Iraq. He survived many hits from IEDs.  One of his battles, his SGT, told me that Cody was "made for war" and that he was an awesome soldier, one of the best.  Cody would never hear of it because he seen himself as just ordinary.  But, in reality, he was very special.  Cody would give the shirt off his back to anyone in need.  During his tour of war, we often sent care packages.  Our entire family would pull together and we would always gather enough to send 10-12 boxes.  We sent everything from Q-tips, baby wipes and socks to his favorite no bake cookies made by our neighbor of 15 years.  Cody would always invite his friends to share everything.  He took only what he needed and would set the rest out to share with anyone who wanted it.  He didn't like "trash talk" and he believed everyone deserved another chance.  He always seen the good in people.  And, laugh, oh my, how he loved to laugh and have a good time. And he loved to make people laugh…he would do about anything to make you laugh.  He could turn your worst of days into your best of days.
Looking back, I think Cody hid behind that wall of laughter to get away from the horrible things he had seen at war. He came home from war and seemed to be his "old self" quickly finding all of his old hometown friends and catching up on lost time.  He married, bought a house, new truck, new Harley and was trying to start a family.  After several months of trying to have a family with no success, and working long hours and traveling away for several weeks at a time at his civilian job, the stress began to take a toll on Cody.  Much of his stress he hid from family and friends.  He self medicated with alcohol and sought help numerous times at the VA only to be turned away.  He was turned away FOUR TIMES.  Unknowing to him or anyone else, symptoms of PTSD were rapidly taking over.  He was having repeated nightmares, little or no sleep, flashbacks, etc.  After not receiving the help he needed from VA, he sought help from a local doctor's office where he seen a NURSE PRACTITIONER.  I say that with all caps because I strongly believe she was out of her lane.  The nurse practitioner prescribed an anti-depressant I believe was too strong for Cody.  Especially, knowing of his drinking habits.  Cody began taking the drug (unknown to me or his family) and shortly after, flushed the pills down the toilet because he didn't like the way they made him feel.  But, with no medication, the nightmares worsened and were more frequent; the flashbacks were more easily triggered and so he had the prescription refilled.  He knew this medication was affecting his thought process and he couldn't control it.  He even made the statement to a co-worker while working away from home that he didn't want to be alone that night.  They were working 2nd shift so it was around midnight when they got back to the hotel after having dinner.  They would meet again around 12 or 1 o'clock the next day to report to work again.  Not knowing the situation, the co-worker extended an invitation to Cody to come to his hotel room so he wouldn't be alone and they could watch some movies and drink some beer.  Cody never showed up.  His bed never touched.  He took his life in the wee hours of the next morning, not in a rage of fear, but he carefully planned it.  He called many of his friends at all hours of the night and the last call went unanswered because the friend had fallen asleep.  They found Cody the next day when the co-worker couldn't get him to answer his phone or his hotel room door. The hotel clerk had to open the door.
It was the call no parent should ever receive. It was and still is so shocking.  Cody was the life of the party guy.  He was the "go to" guy.  He was the peacemaker, the best friend, the giver, the son, grandson, the brother, the twin, an uncle, and a husband.  As his mom, I wanted to go with him.  I thought of my own suicide.  His siblings shattered and broken.  His nieces and nephew too young to understand but not too young to feel the hurt.  His entire family, friends, and all that knew him, in a state of shock.  And still are to this day.
As his mom, I couldn't bare to hear how the VA turned him away.   Not once, not twice, but FOUR TIMES.  How could that be?  He fought for this country.  He saved lives.  He is eligible for both the purple heart and the bronze star!  He was a hero.  Then, I discover that we as a country are losing 22 Veterans to suicide EVERY DAY!  22, EVERY DAY!!  That is over 8,000 EVERY year!  How can that happen??  And, WHERE is our government?  What are they doing?  They're doing NOTHING!!  But WHY?  These are our boys…our soldiers…our sons, daughters, fathers and mothers in some cases.  If 22 people became sick from eating a burger at a restaurant, they would close that place down in a second and track the meat to the very cow it came from on a farm in Iowa and shut down the place that processed the meat until the issue was resolved and the victims paid handsomely for their pain and suffering.  But, we do NOTHING for the young men and women who FIGHT for OUR FREEDOM???  This has to STOP!  So, as Cody's family, we all agreed that we must do something so that no other family suffers such a tragic loss again.
Our mission in life now is to help our veteran's who suffer from PTSD by providing service dogs whether it be a dog already certified, a new pup that will need complete training, or if it's sending an existing pet for certification training. We feel strongly that a dog can be there when a family member cannot.  We also want to push for legislation changes to improve the way are veterans are medically treated.  And we would like to see the government implement a decompression time for troops returning from war.  We spent 17 weeks training our soldiers for war, we owe them that length of time to regroup, readjust, and to learn how to readapt back into a civilian way of life. Some of these young men and women join the service at a very young age and may rush into a relationship and marry quickly prior to deployments.  Then they rush off to a war torn country where they may experience horrific incidents repeatedly for an extended period of time. They work endless hours with little or no sleep, their lives are threatened on a daily basis, they lose friends, they miss out on family events and all the things we take for granted.  Then they come home, broken.  They may come home to a spouse that has handled the house, the kids, the homework, baths, cleaning, bills, car maintenance, home maintenance, and they too, are exhausted and desperately need a break.  And, that broken soldier is expected to give it.  It's no wonder why our soldiers are suffering so badly.  We need CHANGE.  They need HELP.  And we are here to make it happen.  That decompression time can help bring that soldier back to his family in the way that they left. They can get the counseling needed to overcome the scars left from the war.  They can learn how to manage the home, how to deal with the kids, the bills, and bring in the spouse/partner and learn to communicate and how to work together.  We can end PTSD if we all work together.
So, I hope this page has helped you in understanding where we are and why. I hope that you will join us in this journey because without the help of communities everywhere, we won't make it.  If you can make a donation, that's great and we sincerely thank you!  If you cannot, that's ok because there are still tons of ways to help.  You can contact your law makers and push for the changes we want to see, you can spread the word!  Share site information, collect auction items or donations, tell your employer because they are always looking to support a worthy cause.  We can provide materials to share or print out, just let us know what you need.  And, if nothing else, pray.  Pray for the safety and well being of our troops and veterans and for the safety of our country.
Thank you for taking the time to learn about us. We would love to hear back from you. Feel free to contact us at codyscause@outlook.com. And follow us on Facebook, look for Cody's Cause, Inc. Thanks again and God Bless.